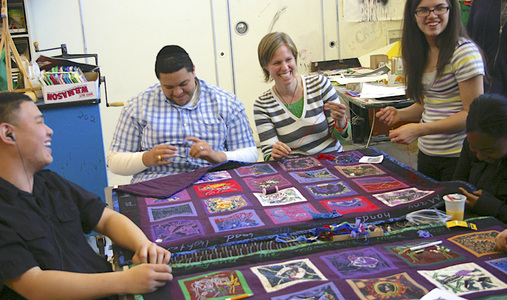 Kate working on the Haiti Quilting collaboration with students from Charlestown HIgh School, in 2010. These quilts were made and sold to raise funds for a steeldrum artist collective in Port Au Prince, Haiti, following the devastating earthquakes.
I received my BFA and MFA in painting at the National Academy of Art in 2004 from Sofia, Bulgaria, under Painting Professor
Andrei Daniel
. I learned to speak Bulgarian and had many interesting experiences there, including receiving a
CEC Visual and Media ArtsLink Award
to help young people living in state-run orphanages create social documentaries through photography. My education also includes majoring in Italian Studies (B.A. 1993) and History (B.A. and M.A 1994) at Stanford University, and completing the Teacher Preparation Program in Art Education at Massachusetts College of Art and Design (2010). From 2006-2010, I worked as Boston Director of
Artistic Noise
, an arts and entrepreneurship program that exists to bring the freedom and power of artistic practice to young people who are incarcerated, on probation, or otherwise involved in the justice system. I have served on the board of this organization from 2010 to the present. Previously, I taught studio art and art history as an adjunct professor at Montserrat College of Art and Northeastern University's Foundation Year Program. I currently teach ceramics and sculpture at
Westwood High School
, where I also serve as the Tenacity art coach for the METCO program and a member of the Courageous Conversations Steering Committee. For several summers, I have taught elementary and middle school art at the
BSAFE
program in Boston.
Teaching at the high school level is particularly meaningful to me, due in large part to my beloved high school art teacher,
Mark Potter
. Potter was an inspiration and enabled me at a young age to envision myself as an artist.